Architects and Civil Engineers: Studying and Working in Germany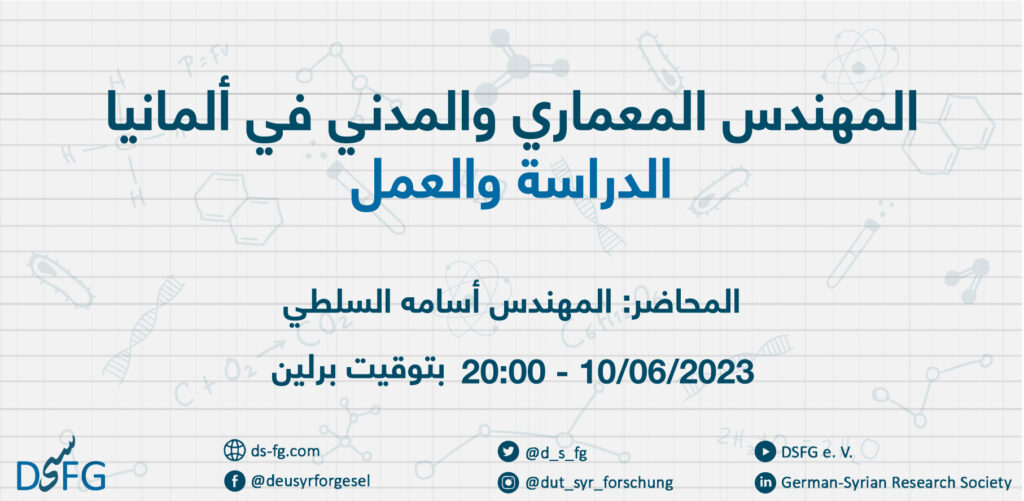 Introduction:
Providing adequate information about studying and working in the fields of architecture and civil engineering in Germany.
The workshop is specifically tailored for students of civil and architectural engineering, empowering them to apply to universities in Germany, and supporting them to find their first job in Germany.
It'll include Q&A discussion answering the questions regarding the study and work in Germany, without focusing on the details of applying for study or the required documents.
Content of the workshop:
Study:
• Study and learning style.
• Concept the missing word

.
• Study specializations in Germany.
• Stages of study: bachelor's, master's, scientific research and doctorate.
• Types of universities in Germany.
Career:
• The role of the architect and civil professional.
• The profession Structure and the laws of its practice.
• The construction project and a general idea of construction laws.
• Professional specializations and wages
• Applying for a job from inside Germany (without mentioning applying from outside Germany)
Registration Form:
Thank you for your interest, but we regret to inform you that registration is now closed.